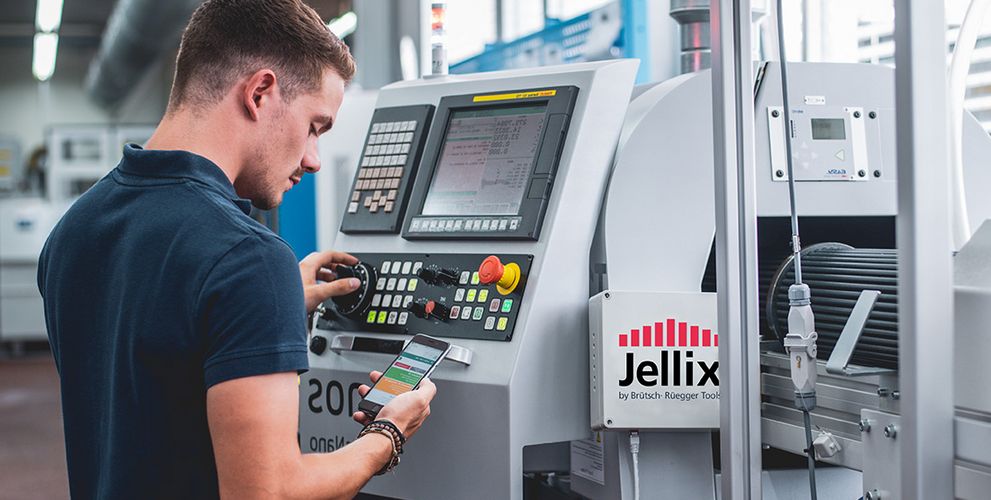 Jellix is an open and fully digital Industry 4.0 platform. The technology allows your company to raise your productivity to the next level throughout the entire value-added chain. Design your future production processes together with Jellix and Brütsch/Rüegger Tools.
Secure
Full control over your data

Connect to your existing IT infrastructure

Your data can either be stored in the cloud or saved locally on your own servers

Access your encrypted data in real time from virtually anywhere
Independent
From the outset, Jellix offers intelligent apps for use in your company — independent but compatible with all of your existing systems

Since Jellix is manufacturer-independent, it can network all manufacturing processes, devices and databases together as a digital platform
Individual
As an open system, Jellix can be individually adapted to your needs, allowing you to exploit the full potential of your production processes by means of software customisation

Connected devices not only supply data, but can also be controlled centrally and individually
Machines, measuring devices, goods management and purchasing all generate data, but how can you extract valuable information from this data in order to optimise company processes? With Jellix, Brütsch/Rüegger Tools offers an Industry 4.0 platform that allows commercial value to be generated from a wide range of technical and business data. For example, Jellix makes all relevant data from the production process available in real time on a mobile device or PC.

In this way, relevant key data from the production process, such as machine utilisation or OEE (Overall Equipment Effectiveness) is displayed automatically in real time. The standardised graphical representation allows users to identify critical events immediately, which in turn enables a rapid response and resolution, thereby increasing efficiency.
The Jellix platform is based on the most recent technologies for connectivity and real-time management of industrial machines and equipment. It has a scalable architecture that is compatible with every device type and can analyse large quantities of data. Jellix is the name given to a new alliance between some of the key actors in industry. The aim of Brütsch/Rüegger Tools is to offer connected industrial applications on a shared, open platform, so that every company can access the best digital tools to improve their performance.
---