ToolBox
Management systems / Storage and retrieval systems
The Brütsch/Rüegger Tools ToolBox systems allow for intelligent and efficient equipment planning. This results in a reduction in consumption, stock value and tool type variety, which also leads to lower tool procurement and storage costs. Administrative costs fall as a result of the integrated ordering system. In total, this results in productivity increases by up to 20% each year.
The Brütsch/Rüegger Tools ToolBox systems boast impressive simplicity and diversity. They guarantee 100% availability, a significant reduction in tool costs, and complete traceability. The central data storage gives all business units, production systems and NC machines real-time access to complete and correct tool and production data.
Our experts have practical backgrounds and have the best knowledge of processes and tasks in production and assembly. Implementation is carried out according to your requirements. In addition, we also incorporate our experience from numerous projects into your project, thus ensuring an ideal solution and economic success from the start.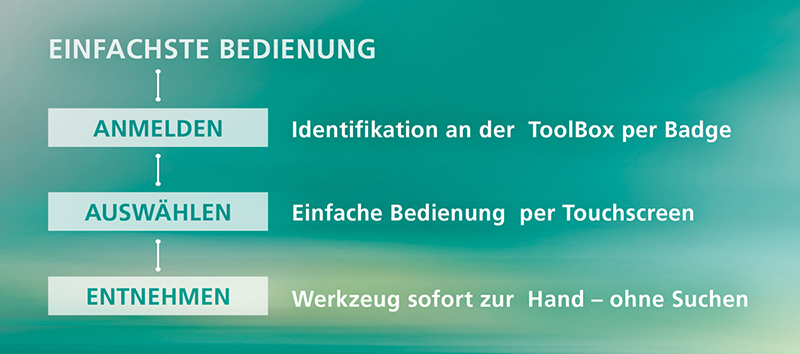 ToolBox systems at a glance
Multi-vendor capability
Determination of individual user rights
Flexible search and quick removal
Administration of comprehensive tool data
Optional connection to ERP
Can be extended and combined as required
24-hour / 7-day availability
Number and height of drawers adjustable
Inventory and consumption optimisation
Inventory overview and stock value
Stock turn rate analysis
Main cost driver analysis
Evaluation per cost centre and order
Removal history
Removal "used before new"
Measuring equipment management
Retention of unused measuring equipment
A multitude of services when it comes to the ToolBox system:
Efficiency audit
Installation and commissioning
Investment protection
Training
Stocking
Maintenance and repairs
Support and helpline